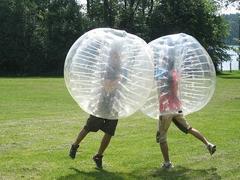 Bumper Balls AKA Knocker Soccer Balls
$0.00
If you like bumper cars then you will LOVE THIS!
(SEE MORE DETAILED PICTURES OF THE BUMPER BALLS BELOW)
Bumper Balls are a blast. You have seen these on TV. Now we bring them to you for rental. These Bumper Balls are tough to protect you from injury. To play in a Bumper Ball you have to slip inside the middle. When you slip inside, a pair of shoulder straps go over your shoulders like a back pack. Then there is a belt that goes around your waist to lock you into the ball. You then grab the handles on the inside of the ball and you are ready to have fun. This harness system is tough so you will stay locked into the Bumper Ball at all times. This will allow you to focus on fun so you can enjoy the full contact game you are about to take part in. Bumper Balls are perfect for your larger home, church, or school event for both kids and adults.

There are a couple of restrictions and warnings about the use of Bumper Balls. First - Bounce A Lot Inflatables Bumper Balls are for ALL AGES, however w
e do

not recommend these for toddlers or kids up to 5 years

.
Second - these

CAN NOT BE USED ON CONCRETE OR ANY ABRASIVE SURFACE

! These MUST be used on an open grass area. gym floor, or carpeted area. Last - you

MUST not have any sharp objects in the play area

. Any sharp object, sprinkler head, stump, sharp fence, sticks, you name it can PUNCTURE a Bumper Ball. An area must be open and free from debris.

These are available in TWO sizes. Medium - kids and smaller adults (most ladies). Large - larger kids to adults. There is a FOUR ball minimum order. You will be asked to choose a Bumper Ball package when ordering.
PACKAGE ONE - 4 Medium Bumper Balls

- $220

PACKAGE TWO - 2 Medium and 2 Large Balls - $240

PACKAGE THREE - 4 Large Balls - $260

PACKAGE FOUR - 4 Medium and 2 Large Balls - $350

PACKAGE FIVE - 2 Medium and 4 Large Balls - $370

PACKAGE SIX - 4 Medium and 4 Large Balls - $480
YOU MUST CHOOSE THE PACKAGE YOU WANT WHEN ORDERING
Our inflatables are always cleaned and sanitized after every rental. Your kids will play in a unit you can be assured is up to your standard of clean. This cleaning standard set up apart from other companies. Our inflatables will be the highlight of your party and the highlight of your kids day.
Make sure your set up area is a large enough area that will provide plenty of room for your kids to jump, tumble, laugh, and play with all their friends.
This inflatable is for ALL AGES (no toddlers). MINIMUM space needed will be 35ft long x 35ft wide *for FOUR BALLS. We ask for a 40ft x 40ft area for SIX to EIGHT BALLS. (Call us if you are doing an event indoors.) You will need ONE 15amp outlet WITHIN 100ft OF PLAY AREA.
Secure your date TODAY!
Book ONLINE or CALL 813-996-2935