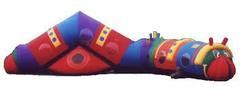 30ft Caterpillar Obstacle Course - UNIT #414
$227.00
Please call 813-996-2935 to reserve this item. It is currently getting serviced but it might be ready by your event date.
Like a fort inside only BETTER!
(SEE MORE DETAILED PICTURES BELOW)
The 30ft Caterpillar TUBULAR Single Lane Obstacle Course is a favorite for smaller kids. If you have an active party then obstacle courses should be your inflatable of choice. This unit even has escape zippers. This mostly allows parents inside to interact. Also Don't let it's small size fool you. There are crawl throughs, vertical pop ups, horizontal pipes, a climber and slide in this tubular obstacle course. This Bounce A Lot Inflatables obstacle course is a challenging unit that is great for small kids but too small for older kids. The design will allow you to get more kids through the unit and is perfect for your larger home, church, or school event for both boys and girls. You can get 100+ kids per hour through a two lane obstacle course like this. The neutral theme allows you to use this for any event!
This obstacle course offers great open sight lines and the windows is clear and easy to see through. You will have great views of the kids playing inside and be able to easily keep a close eye on them. The slides on our obstacle courses, on both wet and dry units, will have extended landing areas or landing pools. This will keep your kids safe when coming down the slides. All obstacle are enclosed with high sides or mesh for safety. This will keep people going through the course stay ON the course and safe from falling out. Our inflatables are always cleaned and sanitized after every rental. Your kids will play in a unit you can be assured is up to your standard of clean. This cleaning standard will also keep the colors on the inflatable bright. This will make your event come alive once we set up the inflatable. Our inflatable will be the highlight of your party and the highlight of your kids day.
This unit features large areas that will provide plenty of room for your kids to jump, tumble, laugh, and play with all their friends.
This inflatable is for ages 12 and under. MINIMUM space needed will be 35ft long x 20ft wide x 9ft tall. You will need TWO 15amp outlets or ONE 20amp outlet WITHIN 100ft OF UNIT.
Book ONLINE or CALL 813-996-2935