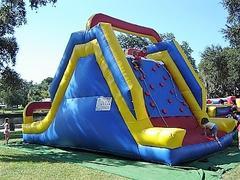 16ft Climbing Dry Slide - UNIT #413
$237.00
Kids love a Climbing Slide!
(SEE MORE PICTURES BELOW)
This16ft tall DRY two lane slide is perfect for your events for boys or girls.
It has a set of climbing blocks instead of stairs to challenge sliders heading to the top of the slide
. This is the steeper of our two smaller climbing slides and offers a more challenging climbing area and helper ropes to climb up. This is a heavy duty all ages slide. Ok for younger kids.
Bounce A Lot Inflatables has equipment that meets the highest safety standards. This slide has high sides on the stairs climbing area. This keeps your kids safe and restricts accidental falling from the side of the inflatable. The slide also has high sides. This prevents sliders from coming off the side of the inflatable. All of the stairs and climbing areas have additional hand holds. This allows climbers to keep a good safe grip while climbing to the top of the slides. All of our inflatables have multiple reinforced anchor points. This is especially important when an inflatable gets larger so it can be properly secured to the ground. This will prevent a unit from shifting or tipping over. Units like this slide are also equipped with outrigger safety ropes to keep the unit secure and reduce sway and rocking while in use. Our slides are also equipped with slide deck netting at the top of the slide. This will prevent a rider from falling off the top or jumping off the top deck area down the slide.
Our inflatables are always cleaned and sanitized after every rental. Your kids will play in a unit you can be assured is up to your standard of clean. This cleaning standard will also keep the colors on the inflatable slide bright. This will make your event come alive once we set up the inflatable. Our inflatable will be the highlight of your party and the highlight of your kids day.
This slide is an all ages unit. MINIMUM space needed for this unit will be 25ft wide x 30ft long x 17ft tall. You will need ONE 15amp outlet WITHIN 100ft OF UNIT.
Secure your date TODAY!
Book ONLINE or CALL 813-996-2935