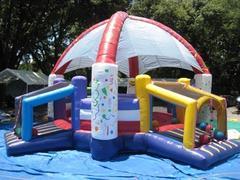 Soccer Dome - UNIT #321
$247.00
SHOOT or DEFEND?? How about BOTH!
(SEE MORE PICTURES BELOW)
The Bounce A Lot Inflatables Soccer Dome is a super fun, fast paced, SOFT IMPACT inflatable. The game starts with TWENTY soft impact playground balls inside.
Four players face off against each other on an angled surface and you kick balls at each others goals. Each person tries to defend their goal against other the other players at the same time they try to score.
It's the Ultimate High Energy game. The player with the fewest balls in their goal is the champion.
This unit can also double as a bouncer for kids when not being used for the game. You can add some smaller balls of your own to allow the kids to shoot hoops inside too!
It's big, it's bold, and it's extreme FUN!
This unit is perfect for ALL AGES. If you have any little ones this unit doubles as a play area for them as well.
The Soccer Dome features a large bounce area that will provide plenty of room for your kids to jump, tumble, laugh, and play with all their friends.
The Soccer dome has an entrance at the back of a goal. This allows your kids to safely and easily enter and exit the inflatable. You will have great views of the people playing inside to keep an eye on them. This is also a shaded inflatable to allow you to stay cooler on sunny days! Our inflatables are always cleaned and sanitized after every rental. You will play in a unit you can be assured is up to your standard of clean. This cleaning standard will also keep the colors on the moonwalk bouncer bright. This will make your event come alive once we set up the inflatable. Our inflatable will be the highlight of your party and the highlight of your kids day.
This inflatable is for ALL AGES. MINIMUM space needed will be 35ft wide x 35ft deep x 18ft tall. You will need TWO 15amp outlets or ONE 20amp outlet WITHIN 100ft OF UNIT.
Secure your date TODAY!
Book ONLINE or CALL 813-996-2935