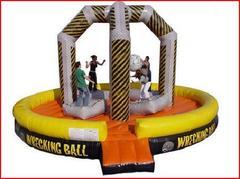 Wrecking Ball - UNIT #306
$227.00
4 Players WRECKING each other!!
(SEE MORE PICTURES BELOW)
The Bounce A Lot Inflatables Wrecking Ball is a super fun, fast paced, SOFT IMPACT inflatable.

Wrecking Ball is a brand new concept for kids and adults of all ages! It's big, it's bold, and it's extreme! It's the Ultimate High Energy game. (4) Players climb atop their inflated pads. One of the players grabs the Wrecking Ball and hurls it at their opponent in an attempt to knock the player off of their inflated pad. As the Wrecking Ball swings back, try and grab it! The player, who grabs it first, then hurls it at another player, trying to knock that player off. The last player standing is the champion.
The safety is in the design. The air filled pedestals move around forcing you to work to keep your balance. Next the wrecking "ball" itself is a soft impact light weight bean bag. It doesn't take a hard hit to knock you off the pedestal.
You won't have to worry about any bumps, bruises, or black eyes!
The Wrecking Ball also has a large area with side walls to keep you inside the unit for an additional level of safety for your events! This unit is perfect for ALL AGES. If you have any little ones this unit doubles as a play area for them as well.
This unit features a large bounce area that will provide plenty of room for your kids to jump, tumble, laugh, and play with all their friends.
This inflatable has the classic black and yellow "hazard" colors and looks amazing once set up.
This unit has an entrance safety step. This allows your kids to safely and easily enter and exit the inflatable. You will have great views of the people playing inside to keep an eye on them. Our inflatables are always cleaned and sanitized after every rental. You will play in a unit you can be assured is up to your standard of clean. This cleaning standard will also keep the colors on the moonwalk bouncer bright. This will make your event come alive once we set up the inflatable. Our inflatable will be the highlight of your party and the highlight of your kids day.
This inflatable is for ALL AGES. MINIMUM space needed will be 35ft wide x 35ft deep x 17ft tall. You will need TWO 15amp outlets or ONE 20amp outlet WITHIN 100ft OF UNIT.
Secure your date TODAY!
Book ONLINE or CALL 813-996-2935