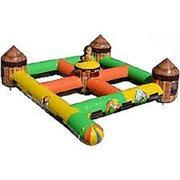 NEW Jungle TUNNEL Maze - UNIT #329
$217.00
Lost in the JUNGLE!!
(SEE MORE PICTURES BELOW)
The BIG Bounce A Lot Inflatables Jungle TUNNEL Maze is an enclosed style MAZE inflatable which is very safe for younger kids and toddlers. There is a "snap shut" easy access entrance to the Maze and a giant grid of tunnels to allow the kids to run and crawl through the unit. There is a series of windows throughout the Jungle Tunnel Maze so the kids can see out and parents can see inside. There is a also series of escape zippers in different sections around the inflatable which will allow the parents access to the inside at any point. This inflatable has amazing air flow inside which will allow the unit to keep the kids cool inside.
This Tunnel Maze design has a snap shut entrance area and exit area which allows your kids to safely and easily enter and exit the inflatable.
The Bounce A Lot Inflatables Jungle Tunnel Maze is
perfect for your home, church, business, or school event for both boys and girls. The neutral theme also allows you to use this for any event!
Our inflatables are always cleaned and sanitized after every rental. You will play in a unit you can be assured is up to your standard of clean. This cleaning standard will also keep the colors on the moonwalk bouncer bright. This will make your event come alive once we set up the inflatable. Our inflatable will be the highlight of your party and the highlight of your kids day.
This inflatable is for ages 12 and UNDER. MINIMUM space needed will be 35ft wide x 30ft deep x 18ft tall. You will need TWO 15amp outlets or ONE 20amp outlet WITHIN 100ft OF UNIT.
Secure your date TODAY!
Book ONLINE or CALL 813-996-2935