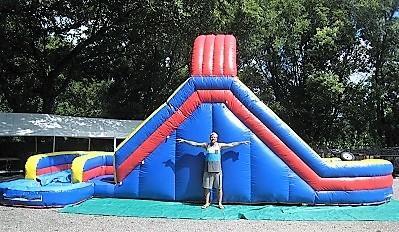 18ft Chutes and Ladders Two Lane Water Slide - UNIT #526
Setup Area: 25ft W x 35ft L x 19ft H
Outlets: TWO 15amp outlets or ONE 20amp outlet
Age Group: All Ages
Water Hose Needed?: Yes





$287.00
Please call 813-996-2935 to reserve this item. It is currently getting serviced but it might be ready by your event date.

This water slide RUNS YOU IN CIRCLES!
(SEE MORE PICTURES BELOW)
The 18ft Chutes and Ladders Two Lane Water
S
lide is Literally TWO SLIDES IN ONE. Two SLIDES and two POOLS! This water slide design is very unique. There are two slides facing opposite each other that keep you sliding in circles. Once you climb up one side and slide down you can immediatly go back up a 2nd set of stairs to slide back down the other side. This slide has a curve in the end of the two slides before you enter the pools. If you have any younger kids at your event this is a safe slide that is lees extreme than our other taller slides. The longer and lower slope angle and curcve at the bottom reduces your speed before landing in the pool. perfect for your busier event. This Bounce A Lot Inflatables water slide has two sets of stairs to allow you to slide more often and is
perfect for your busier event.
This slide is great for your home party, church, school, or company event for boys or girls.
18ft tall water slides are the entry level units to
the ALL AGES rating so everyone can ride the slide!
You asked for more two lane slides... and we've got 'em for you!
Bounce A Lot Inflatables has equipment that meets the highest safety standards. This slide has high sides on the stairs climbing area. This keeps riders safe and restricts accidental falling from the side of the inflatable. The slide lanes also have high sides which will prevents sliders from coming off the side of the inflatable while going down the slide. All of the stairs and climbing areas have additional hand holds which allows climbers to keep a good safe grip while climbing to the top of the slides. All of our inflatables have multiple reinforced anchor points on the sides and bottom which is especially important when an inflatable slide gets larger so it can be properly secured to the ground. This will prevent a unit from shifting or tipping over while in use. Units like this slide are also equipped with outrigger safety ropes to keep the unit secure and reduce sway and rocking while in use. Our slides are also equipped with slide deck netting at the top of the slide which will prevent a rider from falling off the top or jumping off the top deck area down the slide.
Our inflatables are always cleaned and sanitized after every rental so you and your kids will play in a unit you can be assured is up to your standard of clean. This cleaning standard will also keep the colors on the inflatable slide bright which will make your event come alive once we set up the inflatable. Our inflatable will be the highlight of your party and the highlight of your kids day.
This is an ALL AGES slide and is VERY smaller kids friendly.
You must have a water hose that will reach from a water source to the slide set up area to attach to the unit. (We do not provide water hoses).
MINIMUM space needed for this unit will be 22ft wide x 40ft long x 19ft tall. You will need
TWO 15amp outlets or ONE 20amp outlet
WITHIN 100ft OF UNIT.
Secure your date TODAY!
Book ONLINE or CALL 813-996-2935