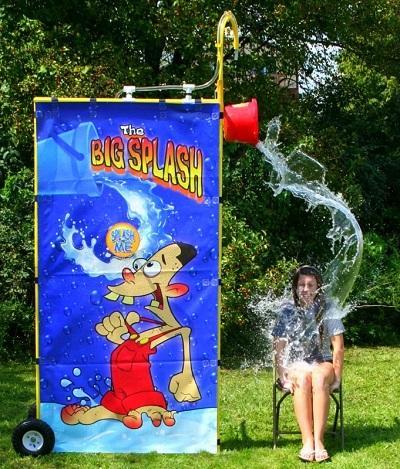 Big Splash ("bucket drop" with chair) #703
Setup Area: 12ft W x 20ft L
Age Group: All Ages
Water Hose Needed?: Yes




NEW ITEM - the alternative to a dunk tank!
What is a Big Splash you ask??? Think of it as an unpside down Dunk Tank. We offer the "Hillbilly" themed unit. The water in the bucket lands on you instead of you landing in the water
as you can see in the picture below
. Big Splash units are the choice of Hillsborough County schools for their kids at school events and WE HAVE THEM FOR YOU! These are perfect for any event, large or small.
This unit is great for home, church, school, and company parties. It comes complete with 3 SPONGE SOAKER balls ready to play. These units are SAFE! Soft balls keep you from worrying about impacts. Since there is no bucket of water to fall into you remove any drowning hazard. There is also no seat to drop off to risk impact injury.
You must have a hose and water source to supply water to the bucket on top of it while in use. It must go on a mostly FLAT surface. You will need to make sure the set up area is also able to drain off water. A LOT of it! You will need an area that is 12ft wide x 20ft long to set this up with room to throw. You will also need to make sure we have a pathway at least 4 feet wide to roll the unit into your set up area.
ORDER NOW ONLINE or call us to reserve. 813-996-2935