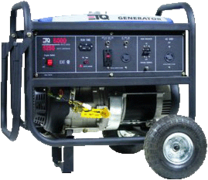 Generator - Large
$60.00
Set Up Area:

Setup area: 5ft x 4ft



Outlets:
Age Group:
Water Hose Needed????:
5500 Watt Generator - 20amps
This is a full size generator that will run 2 blowers for inflatables. **Please note these are for use for our inflatables rentals customers. We do not rent these for use at other events for delivery and use with other equipment and to events we are not delivering inflatables to.